Welcome to the
new
, multimedia version of the BairdNext Insights!
As you and your network continue to be faced with big life decisions we know there is an interest and need for resources to help make informed choices appropriate for you.
We provide these articles in hopes that you or someone you know may find them applicable and helpful. If you feel there is a particular area or topic that needs further discussion or context please let us know so we can provide additional insight.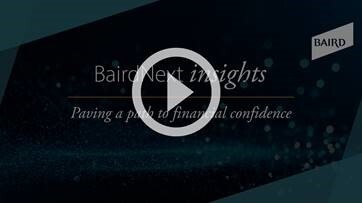 In addition to the valuable thoughts from our Baird experts the below articles and resources can also help you as you consider your formal budget and emergency fund.
Baird 360Wealth
360 Wealth helps bring your online financial accounts into a single view, making it easier for you to keep an eye on the big picture. With 360 Wealth, you can view a comprehensive net worth statement, track changes in your portfolio and manage and view your current month budget, spending, and cash flow.
The Year of Living Dangerously – Letter to Younger Investors
What did sitting at home and watching the stock market for 12 months teach young people about investing?
Baird Wealth
April 2021.
Ten Financial Resolutions for Young Adults
Pay off your debt, save on housing, and other ways to get your money matters in order.
Baird Wealth
January 2021.
FOMO (Fear of Missing Out)
Bull and Baird Blog
February 2021
We encourage you to share this newsletter with those in your network that might find the content helpful.
©2021 Robert W. Baird & Co. Member SIPC. JG2021-0427

Is it time for financial advice?
Should I keep renting or is now the time to buy a house?
How much should I be saving for my kids' college education?
How fast should I be paying down my student loans?
Am I making the most of my employee benefits?
The financial issues you face now are far different than those of someone approaching retirement. However, it's often unclear where to turn for advice that will help you make thoughtful choices. That's why we developed an approach to help you hit the ground running as you establish the foundation that will support you the rest of your life. We customize our process according to your situation – this ensures we put together the right plan for your specific needs and goals.


Our program provides the kind of custom advice and services you need to get ahead.