Our Profile
The Boh Heppe Group*
Multi-generational team, serving multi-generational clients.
Our team has over a combined 35 years of experience and holds highly recognized designations in the industry. Tom and Kelly and hold the CFP® designation. Based in Denver, we are a team of male and female advisors spanning across many generations, ultimately helping us serve our clients' needs best.

*Formally known as The Ogard Boh Group.

Our beloved Karen Ogard retired May 31st, 2021; transitioning from Director, Financial Advisor to our client. For 38 years, Karen served generations of families, advising them (firmly and lovingly!) in the many facets of financial stewardship. We have learned so much from Karen about this incredible vocation we practice, and all the while enjoying the adventure! While we will miss Karen, it is her turn to check off items from her bucket list and execute the final part of her financial plan. Click here for our send off video!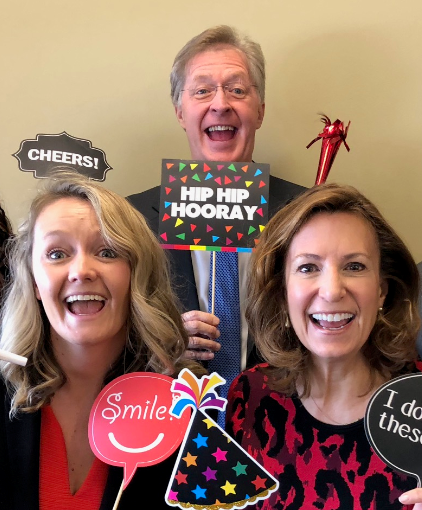 ---
Tom Boh, CFP®
Director, Financial Advisor
Tom is the Director of The Boh Heppe Group, and began his professional career as a financial advisor with A.G. Edwards in 2001. As a college student, Tom began investing in stocks & mutual funds, which later evolved into a passion for all-things-financial, especially good financial stewardship. In 2005, Tom attained his CFP designation, and continues to enjoy helping clients in all aspects of their financial journey.
Tom is an alumni of Mullen High School, graduated from the Colorado School of Mines with a B.S. in Geophysical Engineering, and achieved his M.B.A. from the University of Colorado. Tom spent two years with the international educational/entertainment organization, Up With People, and then seven years as a professional fundraiser with Mile High United Way. Tom met and married his lovely wife Mica, in Cuernavaca, Morleos, Mexico, where he worked as a teacher at a local orphanage and high school. Tom & Mica have three children: Braden, Michael & Fernanda. Tom spends his free time attending kids' sporting events, mountain biking, hiking, and practicing his Spanish.
Kelly Heppe, CFP®
Financial Advisor
Kelly is a financial advisor, planner and educator with The Boh Heppe Group. Starting her career at A.G. Edwards in 2005, Kelly quickly recognized that her desire to educate and make a difference in people's lives would go a long way in the financial industry. By approaching each client's situation like a "training plan", she begins with the end in mind. Starting with short, intermediate and long term goals, she works backwards to formulate an approachable financial path for each client. As with any partnership, she offers support and accountability along the path to financial success. Earning her CERTIFIED FINANCIAL PLANNER™ certification in 2012, Kelly applies her intimate knowledge of clients, combined with analytics to develop a customized financial plan to help each person take control of their financial future.

Native to Colorado, Kelly enjoys cooking, hiking and traveling with her husband, Ben. They live in Denver with their daughters, Kennedy & Evelyn.
Alisha Rotola-Digby
Client Assistant
Alisha joined The Boh Heppe Group in May 2020. While new to the finance industry, she has over 20 years of experience creating and implementing systems, prcoesses and servicing clients. Together with Micki, this power duo is dedicated to providing the highest quality client service to our clients.

Native to Colorado, Alisha is a proud mother of two amazing sons, Colton and Cooper. Fun fact! Alisha and Kelly went to the same high school! She is passionate about fitness and spending time with family and friends.
Bobby Burns
Senior Client Specialist
Bobby joins the Boh Heppe Group from Northwestern Mutual, where he launched his career into financial services in 2015. Bobby has over six years of experience in financial planning and investment operations (originally starting with State Farm in 2013). He prides himself on his reliability and dedication to providing clients with security and peace of mind.
Bobby grew up in Iowa and has a BBA in Marketing from the University of Iowa. Bobby holds his Series 7, 6, 63 and insurance/annuity licenses.
Outside of work, he spends his free time rock climbing, camping, and competing in tournament paintball with the American Paintball Coliseum A-Team. Bobby enjoys spending time with his girlfriend, Ashley, and his dog, Bruno.
Team Accolades
Karen Ogard, CFP® CIMA® & Thomas Boh, CFP® both recognized by FORBES as Best-In-State Colorado Wealth Advisors in 2019, 2020 & 2021
Karen Ogard, CFP® CIMA® recognized by FORBES America's Top Women Advisors in 2020.
Named one of Colorado's Top 100 Women Owned Companies 2017, 2018 & 2019 by COBiz Magazine
Recognized in 2009, 2011, 2012, 2013, 2014, 2015, 2016 & 2017 by

5280 Magazine

as a

FIVE Star Wealth Manager
Recognized in 2011, 2012, and 2013 as a

NABCAP Premier Advisor
Recognized in 2010 by

Denver Magazine

as a Top Private Wealth Advisor
Recognized in 2008 by the

Denver Business Journal

as a Top Denver Wealth Advisor
Recognized as one of

Barron's Winner's Circle

Top 100 Women Financial Advisors – 2007 & 2008
Baird Ranked on FORTUNE's List of the 100 Best Companies to Work For® 17 years in a row