My Profile
Chuck Nemeckay has over 14 years of industry experience and joined Baird in March of 2017. He specializes in helping clients realize the full potential of their savings through life-cycle financial planning. He also works with business owners in establishing retirement strategies that can help retain quality employees while maximizing their own retirement savings. Chuck also spends time helping clients effectively transfer wealth to the next generation through estate and tax planning and safeguards client's financial plans by discussing the most appropriate insurance strategies.
He believes that it is paramount for advisors to develop strong relationships with their clients. A client needs to be able to trust that their best interests are always kept at the forefront of every decision. With the designation of Certified Financial Planner™, Chuck can be relied upon to act as a strong financial advocate.Chuck's practice is consultative in nature. This means that you will never feel like he's telling you it's his way or the highway. You will spend time identifying and discussing your goals so that solutions are developed together. A custom blend of investments will be chosen for your portfolio and Chuck will make sure you understand what they cost and why they present the best balance of risk versus return. A comprehensive financial planning process, accepted by the CFP® Board, is used to accomplish these goals.
Chuck graduated from the University of Minnesota – Twin Cities with a Bachelors in Environmental Studies and a Minor in Environmental Geology. He lives in Stoughton with his wife Natalie and his twin daughters Lacy and Summer. When out of the office, he enjoys spending time with family, golfing, biking, flying planes, maintaining the family reef aquarium and exploring various electronic projects.
WHY BAIRD?
Chuck is proud to be part of Baird – a fully independent, international firm serving the wealth management needs of families, businesses and organizations for more than 90 years. Nationally recognized as a great place to work, Baird attracts the industry's best and brightest. And employee ownership gives all of us a personal stake in our clients' success. It's a formula that works because of the values we share: honesty, integrity and a commitment to keeping clients first – always.
---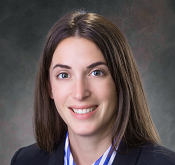 Julie Throckmorton
Client Specialist
(608) 830-3523
jthrockmorton@rwbaird.com
Julie Throckmorton is a Client Specialist with over 14 years of experience in the investment industry. She joined Chuck Nemeckay's private wealth management practice at Baird in 2017. Julie works directly with clients on daily activities, as well as handling operational procedures and questions. She also focuses on building long-term relationships with clients as well as cultivating relationships with financial service providers.
Julie and her husband Edmond live in Monona, WI with their daughter, Ruby and their Golden Retriever, Jasper. In her spare time, she enjoys hiking, reading, running and traveling.
---