The Whitpain Community Festival
Our team's marquee annual event is a free, all-day music festival and bone marrow drive held each year on the last Saturday of September. Inspired by his sister Shannon's former role as head of the Love Hope Strength Foundation, Pat Foley helped add this fun and impactful concert to Whitpain Township's annual Harvest Festival in 2013. In our second year, Montgomery County Community College became host to the event, and the Whitpain Community Festival was born. The life-saving potential of this event grows and grows each year (along with the amount of entertainment!)
Names added to the National Bone Marrow Registry: 201

Potentially life-savings matches found to date: 5

Visit the Whitpain Festival website for information including a detailed schedule for this year's event.
Pictures from Previous Years:
Brett Dennen 2013
Norah Jones 2014
Matt McAndrew 2015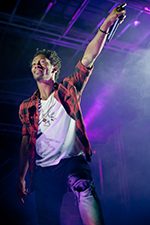 Go Go Gadjet 2016
2019 Pictures
2018 Pictures
2017 Pictures
2016 Pictures
2015 Pictures
2014 Pictures
2013 Pictures



Other Efforts
The Philadelphia-Israel Chamber of Commerce

Pat has served as a member of the Board of the Philadelphia-Israel Chamber of Commerce, which facilitates connections between Israel and Philadelphia regional businesses, governmental agencies, and economic development organizations. The goal is to help bring Israeli innovation (particularly in technology and healthcare) to our area, allowing businesses to flourish and jobs to be created.
The Foley Hillsley Group believes that fostering commerce in the world fosters peace and prosperity, and the Chamber is an organization dedicated to that ideal.
Children's Scholarship Fund of Philadelphia

The Foley Hillsley Group feels strongly that any child, given the right educational opportunities, has a shot at a bright future in America. They put that belief into action in support the Children's Scholarship Fund of Philadelphia. CSFP provides four-year scholarships in grades K-8 to low-income families in Philadelphia. Their small but passionate staff serves 3,000 children enrolled in approximately 200 private and parochial schools. Chosen by lottery, CSFP scholarship recipients demonstrate the difference that access to safe, high-quality schooling can make, as their students graduate at a rate of 95%, as compared to a rate of 49% in the Philadelphia school system.
Charitable Boards
Patrick s a former President (current Director of Capital Projects) for the Whitpain Recreation Association, an all-volunteer sports program that allows thousands of local children to participate in baseball, basketball, field hockey, soccer and softball.

Patrick is a former member of Whitpain Township's Park & Open Space Board, and served as Elected Auditor for the Township.
Kristin serves on the St. Helena School (SHS) Home & School Board. In this role, Kristin runs the school's annual Walkathon. She was able to turn a fun day outside for students into one of the school's major annual fundraisers by implementing an online fundraising tool and social media campaign. She also manages sponsorships for the school's annual golf outing, ensuring that all sponsors receive recognition for their generous support.
Kristin is the Chairwoman of the Cedarbrook Country Club Women's Association (CCCWA) Board. Her role includes a variety of responsibilities but largely focuses on two areas: (1) setting and implementing the event schedule for the women at the club so they can get together and connect; and, (2) chairing the club's annual Ladies Holiday Charity Luncheon (LHCL). Cedarbrook has seen significant membership growth in recent years in large part due to its inclusive environment and activities for women and families. The CCCWA is a key part of this outcome. As for the LHCL, Kristin and her team have raised almost $50,000 in the last four years for charities such as the National Alliance on Mental Illness (NAMI) Montgomery County, the Laurel House and Palooza Activity Center, Ambler and more. More than 150 women attend the event each year and funds are raised through raffles, ticket sales, 50/50 and donations. They usher in the holiday spirit and raise funds for a local non-profit.


Past Events
Rocky's Run, 2009
The Foley Group and Baird Foundation sponsored this LHSF event called "Rocky's Run" on the Philadelphia Art Museum Steps (see photo below). It involved a brief concert, and the display of prayer flags bearing the names of 5,000 cancer victims, cancer patients, and cancer survivors.
Left Photo: Shannon Foley on right holding banner.
Right Photo: Shannon with the same flags atop Mt. Kilimanjaro.
Special Olympics
The Foley Group and Baird Foundation sponsored a beanbag tournament featuring Phillies All-Star outfielder Shane Victorino along with a host of current and former local athletes, and benefiting the Pennsylvania chapter of Special Olympics.
Upper Left: Team Baird: Richard Fox of Cross Atlantic Capital Partners, Shane Victorino, Greg "The Bull" Luzinzki, and Pat
Upper Right: Pat shoots as The Bull looks on
Lower Photo: Heather Foley, Pat, The Phanatic, Mike, and Mary Ann Foley