Our Practice
For The Hirsch Group every client's financial goals, situation, and personal preferences are unique. Our job is to truly understand who you are and what you want your assets to accomplish for you. Baird provides access to a broad pool of research, resources and planning expertise. In addition, we have a professional network of experts with whom we regularly communicate to ensure that your needs are fully met.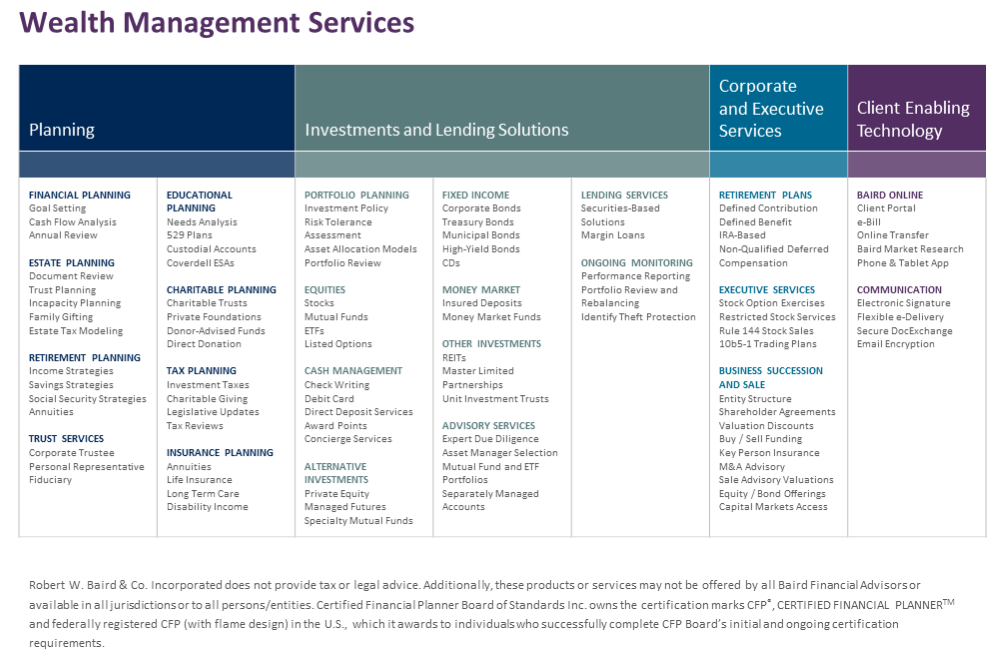 Communication
We believe regular communication with our clients is critical to investing their assets.
Through regular communication, our team is able to assess changes in our client's personal circumstances and in turn, make the necessary changes to their financial strategy and investment portfolio.
Planning
The only way to evaluate our client's total circumstances is through a financial plan.
A financial plan is a critical step in establishing our client's investment policy statement.
We abide by our client's investment policy statement to determine what we will and will not invest in our client's portfolio.
Performance
We compare our results to an appropriate benchmark index. Our goal is to outperform the designated index.
We look for the best risk adjusted rates of return not absolute rates of return.
We use established and proven investment strategies
We address overall portfolio performance on a quarterly basis.
We will not tolerate investments that do not perform.
Duration
We understand that time in the market, not timing of the market is key.
We focus on long-term market strategies.
Compensation
We believe in an ethical payment method that does not favor any investment vehicle over another.
We believe in fee based consultative compensation, so that our interests are aligned with our clients.
Use the link at the top of the page to contact us to discuss investment products and strategies that can help you meet your goals for the future.
Our Process
Understand the financial position of the Client

The investment process begins with a comprehensive understanding of our clients' present financial resources and liabilities

Develop an Investment Policy Statement

The investment policy states our client's objectives, as well as the risk level with which our client is willing to accept in order to achieve their goals. It is imperative that each client develops an investment policy statement and is comfortable with all aspects of the policy.

Develop our Client's Financial Strategy

The proper financial strategy provides diversification of our client's portfolio, which helps enhance returns and lower overall potential risk. We seek to position our client's investments to take advantage of developing investment opportunities.

Implement our Client's Financial Strategy

Investment vehicles are matched to our client's investment policy statement and financial strategy. These vehicles are actively monitored and re-evaluated to ensure that they are adhering to their stated style and are maintaining the quality standards for which they were originally selected.

Comprehensive Review