Is it time for financial advice?
Should I keep renting or is now a good time to buy a house?
How fast should I be paying down my student loans?
How much should I be saving for my kid's college education?
When is a good time to begin financial planning?
The financial issues you face now are far different than those of someone approaching retirement. However, it's often unclear where to turn for advice that will help you make thoughtful choices. That's why we developed an approach to help you hit the ground running as you establish the foundation that will support you for the rest of your life. We customize our process according to your situation – ensuring we put together the right plan for your specific needs and goals.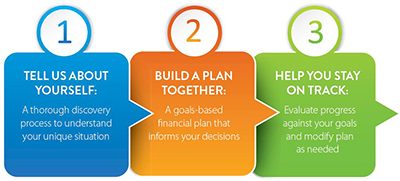 What about YOUR Next Gen?
Your finances may be set for the future, but what about your kids? Check to see if your kids have started to take action with their finances. We can help them with the many difficult changes and choices in their life so they, too, can be prepared for the future, just like you.

New Graduate? Newly Wed? Growing Family?
Check and make sure you are staying on top of your finances.
College Planning Time?

Check out these helpful resources to get started.