Our Practice


Trusted Advice, Exceptional Service

Who We Are
As part of Baird Retirement Management our clients are primarily pre-retirees and retirees from the area's chemical companies and related support businesses. We help them maximize their specific company benefits. We support them as they navigate life's transitions, whether it is planning for college, understanding the financial impact of divorce, preparing for retirement, or handling inheritances and estate planning issues.
Learn More
What We Do
Our focus is to provide clients with a premier consulting approach to their financial needs. As members of Baird Retirement Management, we leverage Baird's robust network of specialists with extensive knowledge of retirement, investment, and tax planning strategies as well as access to the firm's nationally recognized investment research.
Learn More
How We Do It
Our business philosophy is to create an individualized financial plan and customized investment strategies by listening and understanding who you are and what is important to you and your family. We strive to understand the purpose behind everything our clients' desire; whether it's coordinating the complexities of their retirement and investments, or passing on an estate or the family business. We also take time to work with a client's other trusted advisors as needed so everything is working toward the same goals. Clients entrust their financial future to us. Our training and experience allow us to accept this responsibility. Our personal integrity, reputation, and heart earn it.
Experience It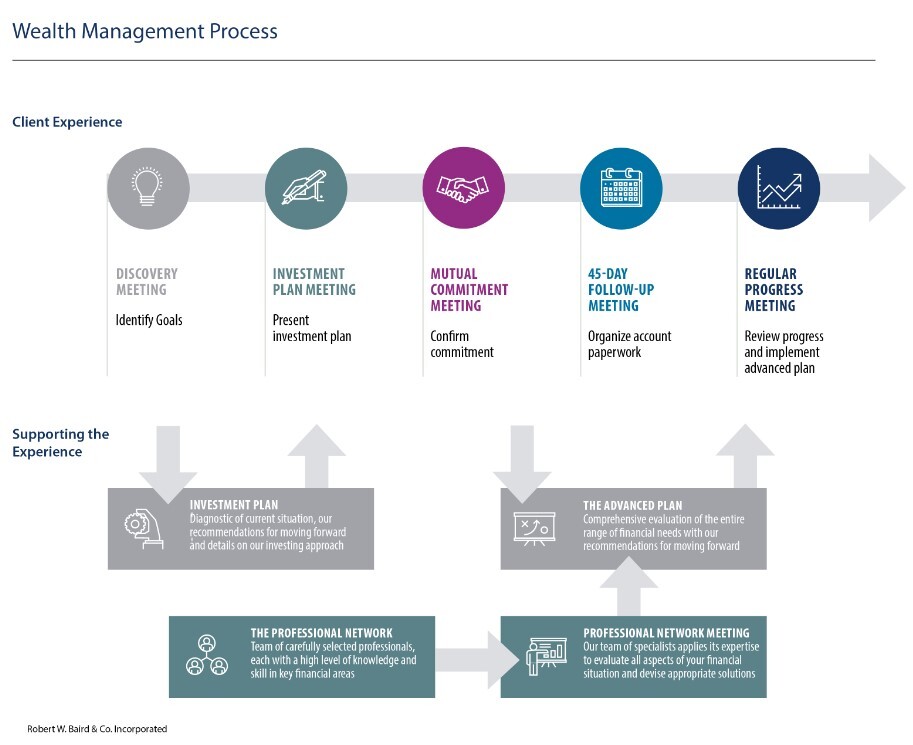 How We Get Paid
It's the one question every potential client wants to ask but is often uncomfortable addressing. I'm committed to transparency with respect to fees so every client knows what their services cost.
Financial Planning and Divorce Planning clients can choose a flat fee which we will negotiate, or they can choose to pay an hourly fee. Clients who want both Financial Planning and Investment Portfolio Management can choose to pay a fee as a percentage of assets managed, or they can choose to pay commission or sales charges each time they approve a trade to be placed in their account. For more detailed information please visit the
Client Experience FAQ
page. Please
click here
for important disclosure information regarding brokerage and advisory services.
How you pay for your services will be based on your needs and your goals, and we'll explore your options together to determine the right arrangement for you.