Moving Forward On Your Own
There never seems like there is enough time to prepare for the loss of a spouse.
You are numb, anxious, and unsure of what to do and maybe you feel out of control. You are grieving, still reeling from pain, maybe afraid and perhaps just want to be left alone. When death strikes, the emotional and psychological blow can be devastating and it is almost impossible, either financially or emotionally, to be prepared for the future alone. Without the basic protections in place, your world can turn upside down.
Some things may be able to put on hold now but several things you must handle soon after the funeral.
Many friends, family and professionals may be pressuring you to make decisions, however proceed with caution on your own timeline. We have helped and guide many women through the aftershock of their spouses death. We have helped her get organized, update any insurance items, and create a roadmap of what life will look like going forward.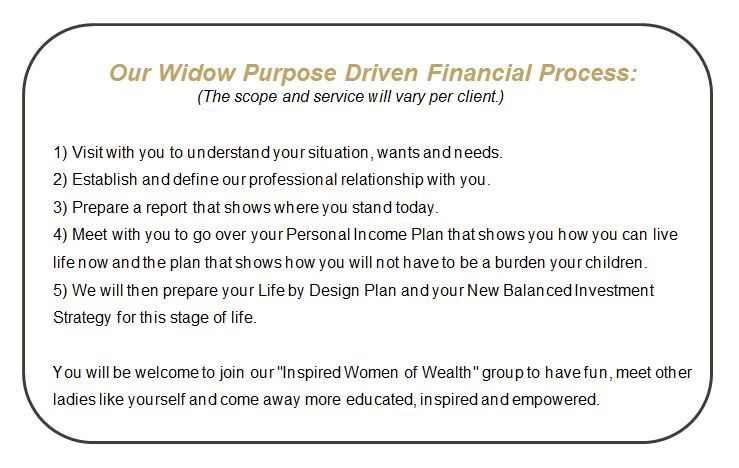 Whether you come to us after you have lost your spouse or we already have a relationship with you, we are committed to always treating you with patience, respect and compassion. We are here to help you easily make the financial updates understandable through this life changing event and our goal is to help you make sense of the most important financial items that are occurring.
We want to be apart of your team and making sure you feel comfortable every step of the way.Resources:
Loss of a Loved One Checklist
Social Security Options for Spouses Widows Ex-Spouses


Inheriting Traditional Ira
Inheriting Roth Ira
Life Insurance Types
Preserving Fam
y.
ily Wealth


https://www.nytimes.com/2011/09/03/your-money/4-money-pitfalls-every-widow-should-avoid.html
https://www.kiplinger.com/slideshow/taxes/T021-S001-most-overlooked-tax-breaks-for-the-newly-widowed/index.html