Services
What You Need is What We Do
Every client's financial goals, situation and personal investment preferences are unique. As your Financial Advisor, our most important job is to truly understand who you are and what you want your assets to accomplish for you. Baird provides access to a broad pool of research, resources and planning expertise from which we can draw when designing customized solutions based on our knowledge of your specific needs in these areas.
Financial and Estate Planning
Retirement and education planning
Tax planning
Wealth transfer
Charitable giving
Investment Management
Portfolio management
Comprehensive advisory solutions
Brokerage services
Alternative investments
Cash management
Risk and Liability Management
Income protection strategies
UITs
Lending services
---
Our Sounding Board Service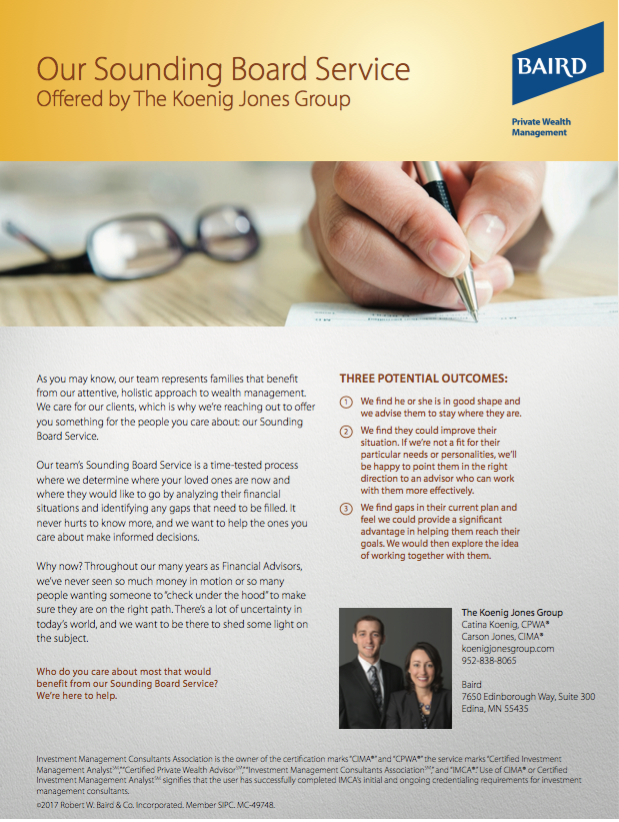 We offer "Our Sounding Board Service" as a way for you to better understand our team's approach, analyze your current financial situation, and identify any gaps that need to be filled in your financial plan. There's a lot of uncertainty in today's world, and we want to be there to shed some light on the subject.