Our Profile
Advice for the Life You Lead
People choose their careers for many different reasons. When we decided to become Financial Advisors, we were driven by a genuine passion for creating great outcomes in clients' lives and a deep desire to help them achieve the things they wanted for themselves and the people they care about.
We have closely guided high-net-worth individuals, corporate executives and families through many market cycles, led by a thorough understanding of their unique situations and an unwavering commitment to keep their best interests first.
In Baird, we have a partner that shares our passion for wealth management, with world-class resources and deep expertise to support us in our mission to provide the very best advice and service we can in important areas, including:
Portfolio management
Life transition planning- divorce, new family inheritance, shifting goals in retirement
Saving for higher education
Planning for retirement
Estate planning services
Investment tax planning
Planning for young professionals
Financial education and literacy
Our practice is honored to be a partner to another Baird advisor, Mary Strickland, and we have been busy helping her to transition, prepare and eventually celebrate her upcoming retirement! Mary has created a strong impact in our community by empowering women with their finances and her pioneering work with social impact investing. Many of us on our team have worked alongside Mary for 20+ years, engaging in advanced education within our industry, discussing the markets and strategizing for our clients. Not only do we share clients with similar values, we share a passion of really getting to know our clients and wanting to make a difference in their lives.

Mary will be a strategic partner for the next 12 – 18 months, and then serve in a consulting role to Baird for the next 2 years after. We are excited to broaden our Baird family and are honored to have the opportunity to work with her clients to help continue achieving the great work Mary has started with them. To learn more about Mary and her practice, visit her website here. With any questions you may have, please do not hesitate in reaching out to us.
---
Laura Murray
Financial Advisor
Laura believes the most meaningful and effective way to manage her clients' portfolios is through a deep understanding of their life goals, values and their families. Her 17 years of financial services experience includes investment strategy management, financial planning, retirement planning, corporate services and traditional as well as socially responsible investing.
A Wealth of Experience
Laura has been with Baird since 2000. She is a trusted wealth advisor to her clients. She has nine years of experience working with a money manager giving her valuable insight as to how to evaluate the investment managers she uses in your portfolio. Clients appreciate her meticulous approach to assessing their financial situation, risk tolerance and family relationships.

She is a lecturer at the University of Wisconsin- Madison in the Department of Consumer Science where she teaches juniors and seniors about financial life skills.

Laura earned her Bachelor of Arts degree in Behavioral Science and Law, from the University of Wisconsin- Madison.
Committed to the Community
The same energy Laura puts into your financial future, she puts toward giving back to her community. She is a member of the Dane County Humane Society Board of Directors and also a member of the Doyenne Group which provides seed funding to women entrepreneurs. She enjoys serving as an ambassador for Maydm, a coding/ STEM education program for girls. She has served on the Executive Women's Golf Association Board of Directors.

Financial literacy and education are priorities for Laura. She is a frequent speaker at events and seminars. She volunteers on the United Way Women's Leadership Council Career Development committee and served as a mentor for the Baird Foundations program and the UW- Madison/ Baird Women in Business program.

Laura enjoys spending time with her family and doting on her black labs. Her hobbies are volunteering, reading, cooking, golfing and enjoying the outdoors, especially in Door County.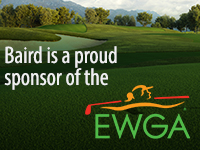 Charles Nemeckay, QPFC, CFP®
Vice President, Financial Advisor
Chuck Nemeckay has over 14 years of industry experience and joined Baird in March of 2017. He specializes in helping clients realize the full potential of their savings through life-cycle financial planning. He also works with business owners in establishing retirement strategies that can help retain quality employees while maximizing their own retirement savings. Chuck also spends time helping clients effectively transfer wealth to the next generation through estate and tax planning and safeguards client's financial plans by discussing the most appropriate insurance strategies.
He believes that it is paramount for advisors to develop strong relationships with their clients. A client needs to be able to trust that their best interests are always kept at the forefront of every decision. With the designation of Certified Financial Planner™, Chuck can be relied upon to act as a strong financial advocate.Chuck's practice is consultative in nature. This means that you will never feel like he's telling you it's his way or the highway. You will spend time identifying and discussing your goals so that solutions are developed together. A custom blend of investments will be chosen for your portfolio and Chuck will make sure you understand what they cost and why they present the best balance of risk versus return. A comprehensive financial planning process, accepted by the CFP® Board, is used to accomplish these goals.
Chuck graduated from the University of Minnesota – Twin Cities with a Bachelors in Environmental Studies and a Minor in Environmental Geology. He lives in Stoughton with his wife Natalie and his twin daughters Lacy and Summer. When out of the office, he enjoys spending time with family, golfing, biking, flying planes, maintaining the family reef aquarium and exploring various electronic projects.
WHY BAIRD?
Chuck is proud to be part of Baird – a fully independent, international firm serving the wealth management needs of families, businesses and organizations for more than 90 years. Nationally recognized as a great place to work, Baird attracts the industry's best and brightest. And employee ownership gives all of us a personal stake in our clients' success. It's a formula that works because of the values we share: honesty, integrity and a commitment to keeping clients first – always.
---